I sat in the stiff leather chair in McClaine's room, arms crossed, glaring at the precious child. Freckles are just beginning to decorate his post-toddler cheeks and his nose that resembles his father's. If I relaxed for a minute, his eyes would pop open in hopes that I had snuck out and opened up the room for an hour or so of quiet pirate fights between himself and the stuffed animal in the corner.
In the background, Audrey's wailing hushes and her reluctance to nap eases and she gives way to her pillow and soft quilt. I see McClaine's chest rise and fall in steady rhythm a tease to his mommy that she can go about her busy-ness of wash and fold, or blog.
Then I hear the tiptoe up the stairs. For some reason it always is unnerving when I am trying to get the little kids to sleep and Avery comes up to ask me something. I have such resolve to get all the kids to sleep so I can have a blessed 30 minutes to myself, or my laundry, or dinner prep or cleaning toilets, blah. I miss the joy in her every question, already having my "no" ready to fire before she ever asks.
"Momma," she has a gleam of excitement and wonder in her beautiful hazel eyes, enhanced by the "kid makeup" in lavender that is smudged unevenly across her lids, "can we decorate this brown wagon?"
"NO. Now go back downstairs until I finish putting the kids to sleep."
"But, it's so ugly," she pleads.
Squelching creativity one little brain at a time. Eager to get about my cleaning and blogging and cooking. Missing the opportunity to foster a world of brilliance and ingenuity.
Her face drops and the wonder fades. She scampers downstairs to the always inviting Noggin.
That is when that God-moment hits me. The quiet conviction in my heart that I only have a breath of time to impact these little souls for an eternity. To fan the flame of creativity. To love them with the fullness of heart and leave the laundry for another day, because really, they don't care if they have clean clothes that are neatly folded and put in their proper drawer. They care about how lovely they decorated the porch with pastel chalks and how they had a tasty snack of dirt and broccoli and purple hull peas from the garden.
I often envy my husband's creativity. At any moment he can sit down and compose a song at the piano, he can pick up a brush and create a lovely watercolor painting, he can find the weirdest items in the fridge and put together a meal fit for a king. He never cleans up after himself or allow the worries of a mess hinder his creation. His two sisters are like that too, spontaneous and brilliant, and I know where it comes from-Oma and Opa.
They buy fun things for the kids, play-do and glitter, chalk and chalkboards, paint and glue-
and they actually let the kids use them.
Oma makes handmade Barbie clothes with Avery, and lets her glue sequins on, she cooks and eats dough and gets messy. They foster creativity, one little brain at a time, and I am learning to do the same. Starting with that ugly brown wagon that will be pretty and gorgeous by tonight.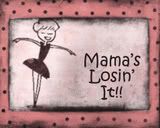 This entry was submitted to MamaKat's Writers' Workshop, click on the button above to join in the fun!