…like this one, to remind me that he loves me and to encourage me
while he is doing this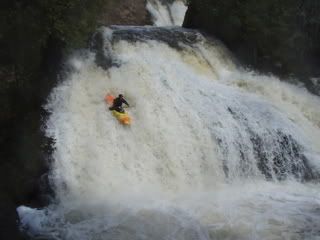 at a place called Devil's River. Now if the above picture (courtesy teammidwestmountaineering) isn't reason enough to name this primo fly fishing and kayaking area after the Devil himself, then perhaps it is the fact that the majority of the river is encompassed by private land. And these landowners have been known to SHOOT at people who get out of the river on their land!
It is Texas, y'all!
And while he is out catching huge fish and lunging down waterfalls
and camping on river islands to avoid being shot, I will continue to read little notes
And bask in the sunshine with my baby girls.
Or dig in the dirt with my son.
Give praise to the Lord for glimpses of springtime.
Snuggle puppies with my sweet Avery.
Or take them for a cruise in the Radio Flyer.
Come home soon my love,
you are missed by those precious things that are unrelated to the evil one and his river.

Hosted by Cecily and ???